Earn loyalty points on this purchase.
Recharge your body and mind with a curated 8 day wellness challenge, featuring wellness shots, cold-pressed juices, smoothies, and probiotics. Each day's theme guides you on a path to holistic well-being, from recharging your internal batteries, to energizing your body, supporting your mind and so much more.
The pack includes a digital guide with daily routines, activities, and wellness tips. Discover the joy of nurturing yourself with a beginner-friendly 8 Day Wellness Challenge.
Daily wellness shots each morning

Daily cold-pressed juice, smoothie, or probiotic in the afternoon

Comprehensive digital guide with curated themes for 8 days of wellness

First access to exclusive community Facebook Group to connect with other challenge participants
Daily shots of wellness.
Wellness shots included in challenge:
Wheatgrass Elixir: Packed with essential vitamins, minerals, and antioxidants, supporting the body's detoxification pathways and providing a natural energy boost.
Elderberry Elixir: With its anti-viral and anti-inflammatory properties, Elderberry is packed with antioxidants, providing immune support and promoting vitality.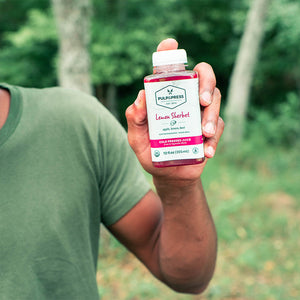 Vitamin-rich cold pressed juice.
Cold pressed juice included in challenge:
Envy: This vitamin and mineral-rich juice acts as a tasty liquid multivitamin with higher nutritional absorbency AND without the hassle of remembering a pill!
Lemon Sherbet: With almost a full day's supply of vitamin C in one bottle, this sweet treat is not only delicious but offers the perfect energetic boost to your day!
Beta Blaster: Extremely rich in vitamins A & C, this skin replenisher offers a great deal of support ranging from improving liver health to increasing collagen production!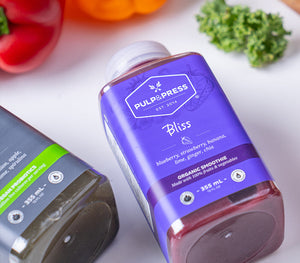 Fuel your body with vegan smoothies.
Smoothies included in challenge:
Monsoon: Rich in vitamins A, C, Iron and Calcium, this smoothie has your back (..and bones and heart, and liver too)!
Bliss: Packed with a full spectrum of minerals that benefit many systems including your neurological pathways, this "blissful beauty" will carry you through your day like a warm summer breeze!
Kalefornia: Get your daily dose of greens effortlessly with our power-packed blend of kale, chia, avocado, and spirulina. This smoothie is a quick and easy way to fuel your body with greens and enjoy the cardiovascular benefits of superfoods.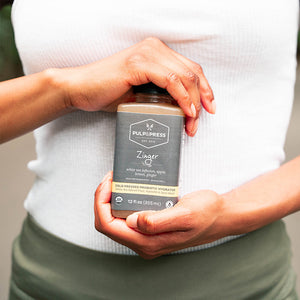 3 billion live probiotic cultures per serving.
Probiotics included in challenge:
Very Berry: Supports gut health and aids digestion by maintaining a healthy gut microbiome.
Zinger: Lemon initiates detox in the liver, providing a refreshing and cleansing effect.
Beginner-friendly challenge.
8 Day Wellness Challenge
Easy to incorporate into routine
Morning wellness shot with movement and activity options
Midday juice, smoothie or probiotic with curated tips and activities
Evening food and activity suggestions
Daily theme to guide you on your wellness journey
Daily reflection prompts and affirmations
Daily wellness themes
Day #1: Detox
Day #2: Boost
Day #3: Build
Day #4: Energize
Day #5: Greens
Day #6: Ease
Day #7: Glow
Day #8: Digest
Early access to new Facebook community
Connect, share, and engage with like-minded individuals who are on the same wellness journey as you. As a member, you'll enjoy access to daily content, valuable resources, and ongoing support to enhance your wellness challenge experience.
Connect with fellow challenge participants to share experiences, tips, and inspiration.
Access exclusive content, including additional recipes, wellness tips, and motivational posts.
Engage in discussions, ask questions, and receive guidance from our team of experts and other members.
Participate in exciting giveaways within the group.
Stay updated on new launches and promotions.
100% Organic Ingredients
Elderberry Elixir: Apple, Lemon, Ginger, Elderberry Extract
Wheatgrass Elixir: Pineapple, Lemon, Ginger, Wheatgrass, Spirulina.
Envy: Cucumber, Celery, Lemon, Kale, Spirulina.
Beta Blaster: Carrot, Apple, Lemon, Ginger, Beet.
Lemon Sherbet: Apple, Lemon, Beet.
Monsoon: Water, Mango, Banana, Lemon Juice, Pineapple, Carrot, Chia, Turmeric.
Bliss: Water, Banana, Strawberry, Blueberry, Beet, Lime Juice, Chia, Ginger.
Kalefornia: Water, Orange, Banana, Lemon Juice, Kale, Avocado, Chia, Spirulina.
Zinger: White Tea Infusion, Apple, Lemon, Ginger, Vegan Probiotic Cultures (L. Bulgaricus GLB44).
Very Berry: White Tea Infusion, Apple, Strawberry, Cucumber, Lemon, Pineapple, Beet, Ginger, Vegan Probiotic Cultures (L. Bulgaricus GLB44).

Frequently Asked Questions
What order do I drink each juice?
After your purchase, you will receive a comprehensive digital guide via email, which provides the recommended order of consuming each juice. While there is no specific time requirement for each juice, the guide offers a general suggestion for morning and afternoon consumption to help you make the most of your wellness journey.
How many juices and wellness shots to I drink per day?
Every day begins with a revitalizing wellness shot, either Wheatgrass or Elderberry, in the morning. In the afternoon, you'll enjoy a refreshing beverage, which could be a cold-pressed juice, a delicious smoothie, or a nourishing probiotic. Each option provides a delightful boost to support your wellness journey.
How do I join the Facebook Group?
You will receive an invite to the Facebook Group to your email post-purchase. The invitation link will be in the same email as your digital guide.
What type of juicer do you use?
We use an industrial-grade, hydraulic cold press juicer to make each and every one of our delicious juices!
What are your juices made of?
Our juices are made of 100% organic, raw, fresh fruits, vegetables, and superfoods per bottle. Never any added sugar or preservatives.
Do you pasteurize your juice?
No! When juice is pasteurized it is heated to a high temperature for a short period destroying the vital nutrients and enzymes of the raw juice.
We use High Pressure Processing (HPP) to keep our juice 100% natural so that you get 100% of the nutritional benefits.
Are your juices frozen?
Our juices are fresh and never frozen, freezing can damage the live enzymes and nutrients. It can also cause the product to expand, leading to broken seals and early spoilage. Just keep the juices sealed and refrigerated to maintain their freshness! Please do not freeze your juice.
How long will the juice stay fresh?
Kept refrigerated and unopened, our juice will maintain its freshness for up to 150 days from the date it was bottled. For optimal nutrient absorption, we suggest consuming your juice before the best before date. We do not recommend consuming juices that are beyond the best before date.
Where do you source your ingredients from?
We believe in supporting your own economy to build a stronger community. That's why we buy all of our ingredients, weather permitting, from local farmers and retailers.
Still have questions? Visit the FAQ.