Earn loyalty points on this purchase.
ABOUT THE JUICE
Knock, knock. Who's there? Banana. Banana who? Knock, knock. Who's there? Banana. Banana who? Knock, knock. Who's there? Orange. Orange who? Orange you glad I didn't say banana? If you found that pun painful, drink this raw juice for a delicious cocktail of organic fruits and vegetables. It's packed with Vitamin A, a vitamin that is known to support healthy skin and even night vision!
Product Information
Beta Blaster
Benefits
Experience healthy skin, sharper eyesight, and overall energy when you drink Beta Blaster. A combination of apple, beet, and carrot along with ginger and lemon–organic foods that support a healthy immune system.
Ingredients
Ingredients: cold pressed juice blend (*carrot, *apple, *lemon, *ginger, *beet).
*Organic.
Vitamins
Vitamin A - 420%
Vitamin C - 69%
Calcium - 9%
Iron - 9%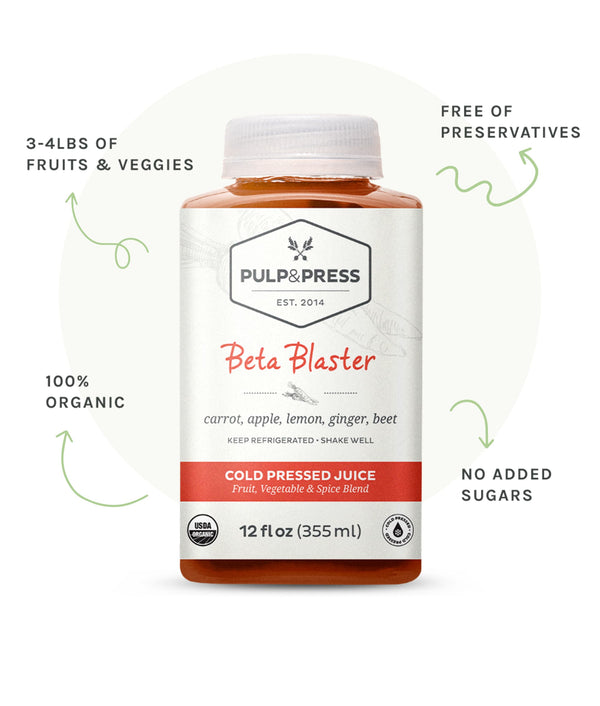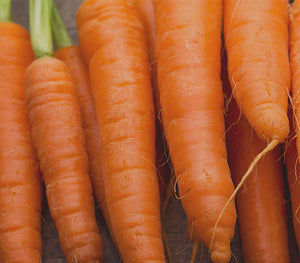 Carrots — Packed with Vitamin A
Carrots are high in carotene that the body converts into vitamin A. This vitamin enhances eyesight, cellular health, and antioxidant activity. Carrots are also a great source of lycopene, which enhances your liver and adrenal gland function.
Explore the Carrot TikTok Beauty Trend

Frequently Asked Questions
What type of juicer do you use?
We use an industrial-grade, hydraulic cold press juicer to make each and every one of our delicious juices!
What are your juices made of?
Our juice is made from 3-4 pounds of 100% organic, raw, fresh fruits, vegetables, and superfoods per bottle. Never any added sugar or preservatives.
Do you pasteurize your juice?
No! When juice is pasteurized it is heated to a high temperature for a short period destroying the vital nutrients and enzymes of the raw juice.
We use High Pressure Processing (HPP) to keep our juice 100% natural so that you get 100% of the nutritional benefits.
Are your juices frozen?
Our juices are fresh and never frozen, freezing can damage the live enzymes and nutrients. It can also cause the product to expand, leading to broken seals and early spoilage. Just keep the juices sealed and refrigerated to maintain their freshness! Please do not freeze your juice.
How long will the juice stay fresh?
Kept refrigerated and unopened, our juice will maintain its freshness for up to 150 days from the date it was bottled. When you receive your juice, you'll have at least 14 days before the best before dates printed on the caps (likely longer!). For optimal nutrient absorption, we suggest consuming your juice before the best before date. We do not recommend consuming juices that are beyond the best before date.
Where do you source your ingredients from?
We believe in supporting your own economy to build a stronger community. That's why we buy all of our ingredients, weather permitting, from local farmers and retailers.
Still have questions? Visit the FAQ.