Earn loyalty points on this purchase.
Introducing the gut-loving dynamic duo! When it comes to maintaining a healthy balance in your gut, fiber-rich smoothies and probiotics make an unbeatable team!
Vegan Cold-flow Smoothies
Say goodbye to the frustrations of time-consuming homemade smoothies that fail to hit the mark. We've carefully crafted the perfect blend of flavors and nutrition, ensuring each sip is a delightful experience. Whether you're on-the-go or seeking convenience, our smoothies fuel your day with ease. Plus they're a hit with the kiddos too!
Vegan Probiotics 
Made from a white tea base, each serving contains 3 billion live vegan probiotic cultures, providing a convenient and accessible way to support a balanced and thriving gut microbiome. No need to rely on fermented foods or struggle to find dairy-free options. Embrace the power of vegan probiotics effortlessly and indulge in the delightful flavors that will keep your digestive system feeling happy and healthy.
Pack Options
10 Pack - 2 each flavor (x6 Smoothies, x4 Probiotics)

15 Pack - 3 each flavor (x9 Smoothies, x6 Probiotics)

20 Pack - 4 of each flavor (x12 Smoothies, x8 Probiotics)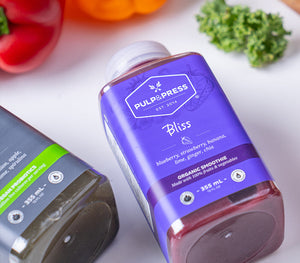 Fuel your body with vegan smoothies.
Monsoon: Rich in vitamins A, C, Iron and Calcium, this smoothie has your back (..and bones and heart, and liver too)!
Bliss: Packed with a full spectrum of minerals that benefit many systems including your neurological pathways, this "blissful beauty" will carry you through your day like a warm summer breeze!
Kalefornia: Get your daily dose of greens effortlessly with our power-packed blend of kale, chia, avocado, and spirulina. This smoothie is a quick and easy way to fuel your body with greens and enjoy the cardiovascular benefits of superfoods.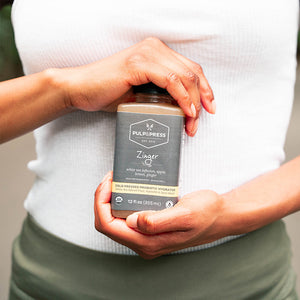 3 billion live probiotic cultures per serving.
Very Berry: Supports gut health and aids digestion by maintaining a healthy gut microbiome.
Zinger: Lemon initiates detox in the liver, providing a refreshing and cleansing effect.

Frequently Asked Questions
What type of juicer do you use?
We use an industrial-grade, hydraulic cold press juicer to make each and every one of our delicious juices!
What are your juices made of?
Our juices are made of 100% organic, raw, fresh fruits, vegetables, and superfoods per bottle. Never any added sugar or preservatives.
Do you pasteurize your juice?
No! When juice is pasteurized it is heated to a high temperature for a short period destroying the vital nutrients and enzymes of the raw juice.
We use High Pressure Processing (HPP) to keep our juice 100% natural so that you get 100% of the nutritional benefits.
Are your juices frozen?
Our juices are fresh and never frozen, freezing can damage the live enzymes and nutrients. It can also cause the product to expand, leading to broken seals and early spoilage. Just keep the juices sealed and refrigerated to maintain their freshness! Please do not freeze your juice.
How long will the juice stay fresh?
Kept refrigerated and unopened, our juice will maintain its freshness for up to 150 days from the date it was bottled. For optimal nutrient absorption, we suggest consuming your juice before the best before date. We do not recommend consuming juices that are beyond the best before date.
Where do you source your ingredients from?
We believe in supporting your own economy to build a stronger community. That's why we buy all of our ingredients, weather permitting, from local farmers and retailers.
Still have questions? Visit the FAQ.