Earn loyalty points on this purchase.
ABOUT THE JUICE
Got a sweet tooth? Put down the chocolate-covered ice cream sundae and reach for this raw cold pressed juice.
Unlike caramel-covered apples, the organic apples in this juice are rich with Vitamin C. It's chock-full of beets, renowned for cleansing your system of toxins, and lemons for a hint of natural sweetness.
A classic sherbet with an ideal balance of sour-y sweetness.
Lemon Sherbet
Benefits
Sweet + sour goodness in a bottle–organic apples in this juice are rich with Vitamin C. Along with a healthy serving of lemons, renowned for cleansing your system of toxins, and beets for a hint of natural sweetness.
Ingredients
Cold pressed juice blend (*apple, *lemon, *beet).
*Organic.
Vitamins
Vitamin A - 3%
Vitamin C - 98%
Calcium - 3%
Iron - 6%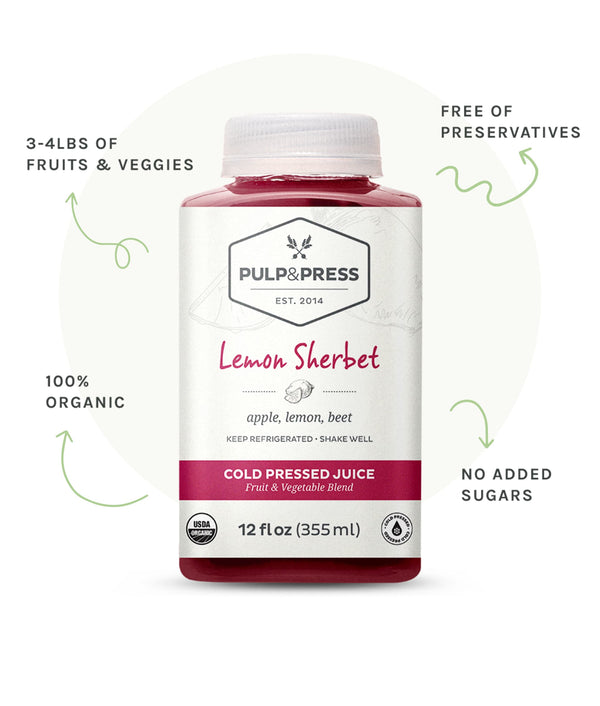 Lemons — An Antioxidant Punch
HIGH IN VITAMIN C
It's no secret that lemons are nature's vitamin C powerhouse!
FUELED BY ANTIOXIDANTS
Can help ease and heal a sore throat, improve your digestion, and relieve heartburn.
SUPPORT HEART HEALTH & HYPERTENSION
Fresh lemon juice can help reduce heart disease and high blood pressure.

Frequently Asked Questions
What type of juicer do you use?
We use an industrial-grade, hydraulic cold press juicer to make each and every one of our delicious juices!
What are your juices made of?
Our juice is made from 3-4 pounds of 100% organic, raw, fresh fruits, vegetables, and superfoods per bottle. Never any added sugar or preservatives.
Do you pasteurize your juice?
No! When juice is pasteurized it is heated to a high temperature for a short period destroying the vital nutrients and enzymes of the raw juice.
We use High Pressure Processing (HPP) to keep our juice 100% natural so that you get 100% of the nutritional benefits.
Are your juices frozen?
Our juices are fresh and never frozen, freezing can damage the live enzymes and nutrients. It can also cause the product to expand, leading to broken seals and early spoilage. Just keep the juices sealed and refrigerated to maintain their freshness! Please do not freeze your juice.
How long will the juice stay fresh?
Kept refrigerated and unopened, our juice will maintain its freshness for up to 150 days from the date it was bottled. When you receive your juice, you'll have at least 14 days before the best before dates printed on the caps (likely longer!). For optimal nutrient absorption, we suggest consuming your juice before the best before date. We do not recommend consuming juices that are beyond the best before date.
Where do you source your ingredients from?
We believe in supporting your own economy to build a stronger community. That's why we buy all of our ingredients, weather permitting, from local farmers and retailers.
Still have questions? Visit the FAQ.
Customer Reviews
Write a Review
Ask a Question
07/25/2023
Terrie W.

United States
Yum
Delicious and good for you!!!
07/20/2023
Terrie W.

United States
Delicious
Overall Great experience. Great product and great customer service.
02/22/2023
Krissy

United States
Yum!
I got the 2 day Kickstart and this one was one of my favorite! Very bright, sweet, tart and refreshing.
07/27/2022
Wendy I.

United States
Sweet and delicious
Delicious flavor! Another one of my favorites!
06/24/2021
David A.

United States
Lemon Sherbet
Good juice, just a little too much tart!!!